Plasterboard is typically required on site before plumbers, electricians, fire and HVAC contractors can begin to carry out their works, so what happens when you don't have the plasterboard?
Keeping a project on schedule has always been one of the key issues with construction. Since the pandemic began this has never been more relevant. The very same issues have had huge impacts on importing and logistics functions too. Whilst the world continues to open up, we are still feeling the effects of worldwide shortages of components and materials from all forms of industry.
We're seeing builders having to plan several months ahead to ensure they have materials on site when they need them. Domestic builders are ordering windows and trusses long before the footings are even dug. Commercial builders are having to juggle trades and shuffle around access to try and keep the job on the critical path.
Traditionally we see partitions and ceiling contractors being the first trade to start on each floor on apartment projects, straight after the concrete floor slabs have been poured. They carry out the set out of the walls by marking out the position of walls and commonly installing the deflection head tracks that the studs will fix to before they frame up the walls. Many of these walls form fire rated compartments within the building including the apartments and service risers/cupboards.
Commonly we see the partitions and ceiling contractors come and frame and sheet the walls that will have pipes and cables pass through them first. This is because it is too hard to cut sheets of plasterboard neatly around pipes and cables if they have already been installed. Cutting the correct size hole for each set of pipes and cables is also critical to the passive fire aspects of treating these services to re-instate the fire rating after there has been holes cut in it. So running the plasterboard first is very important from a future safety aspect as well. This means that plasterboard is required on site before plumbers, electricians, fire and HVAC contractors can begin to carry out their works. So what happens when you don't have the plasterboard? Simply put the job can be held up and in some cases stop until material is available.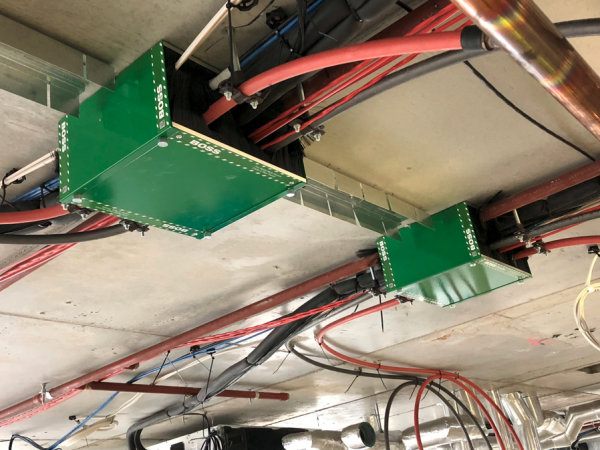 So how else can builders keep the passive fire stopping aspects of a project moving ? They can use a multi-service transit such as the BOSS Fire Transit Box. The multi-service transit box is a passive fire rated product that can be installed up to the soffit before any framing or walls. It enables service trades to pass their pipes and cables straight through it. By using this method of treating the services from a fire rating perspective instead of traditional plasterboard, the critical path of the project can stay on track and services trades can get on the job sooner without any plasterboard. By using the box they can run services first and sheet later.
There are other bonuses too. Not only can the services trades be used on a project sooner, they can run their services easier and faster. By removing the bottom of the box, services can be lifted into position making installation simple. Normally plumbers and electricians would then also have to treat their services individually with passive fire products like sealants, fire collars and often in the case of metal services likely use thermal insulation wraps. Not only does this use up a lot of labour to install, but the risk of using the wrong products, or installing them incorrectly is a real issue the adds costly defects and hold ups of its own.
How does a fire box work you may ask? Well the transit is a metal outer chassis and contains sachets of BOSS Fire's High Pressure Exerting Intumescent sealant known as 'HPE'. In the event of a fire the intumescent expands and seals around the pipes and cables, closing and gaps as plastic pipes melt away. The unique BrushSeal design allows pipes and cables to simply 'pass through' without need for individually sealing cables or pipes or having to cut any other inserts. Significant amounts of fire testing to AS1530.4:2014 and AS4072.1-2005 has proven that the BOSS Fire Transit Box is also able to provide 60min and 90min Fire Resistance Ratings without any need for thermal wraps. In an apartment entry setting this saves significant amount of labour and material costs.
Builders are using innovations like the BOSS Fire Transit Box to navigate material shortages on site like plasterboard and getting many other added bonuses.